And here is how easily it works...

Suppose you want to write a letter to the Statue of Liberty. Of course you know that the Statue of Liberty is on Liberty Island, New York but what's the right ZIP code? Here is how Perfect Address helps you to find the correct address:

First type New York NY in the city field or select the city name from the listbox. Then enter Liberty Island in the street address field. The information displayed in the listbox changes to what you type. The name which most closely matches what you have typed is highlighted in a different color. You don't have to type the complete address, just pick from the listbox.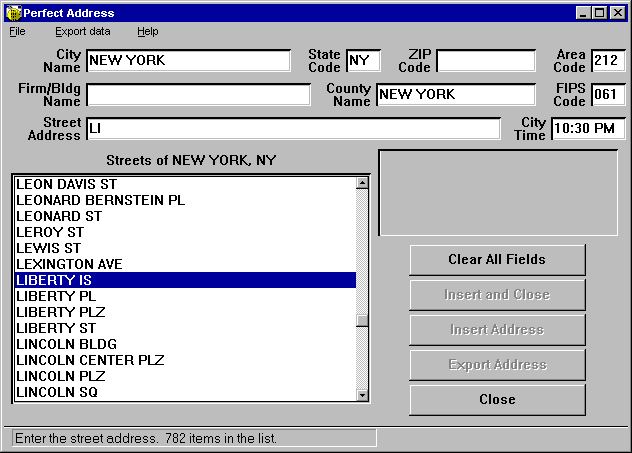 Select Statue of Liberty from the list in the listbox ...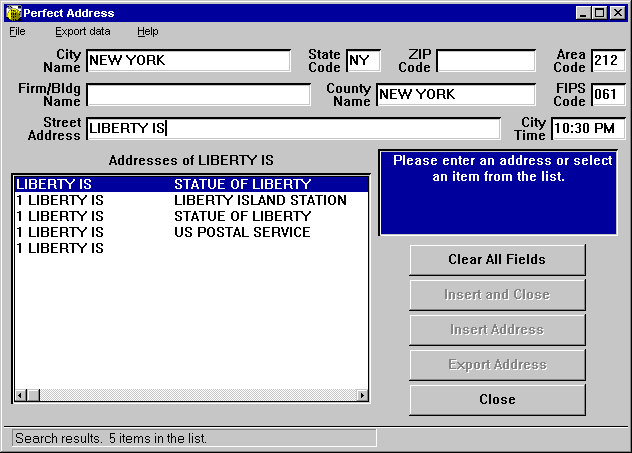 ... and voila, here is the correct address including ZIP+4, delivery point barcode digits, county name and FIPS code, area code and correct New York City time. Now you can export the whole address or any of the displayed data via the Clipboard into another Windows application or to an ASCII file.
Of course you could have verified and corrected this address also right from within in your Microsoft Word or Corel WordPerfect letter.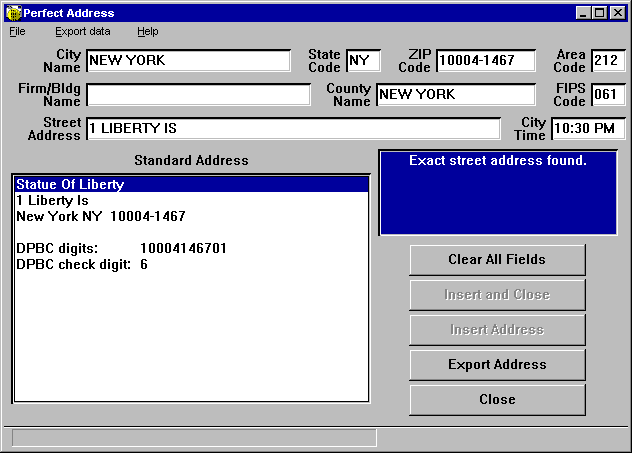 Requirements:
Windows 3.1or higher; CD-ROM drive.
Optional software: Microsoft Word 6.0 for Windows, Microsoft Word for Windows 95, Microsoft Word 97, WordPerfect 6.1 for Windows, Corel WordPerfect Suite 7, or Corel WordPerfect Suite 8.

Prices:
We offer different Licenses for Perfect Address:

Please read our License Overview to determine which license you need.


* Semiannual subscription: You'll receive the November 2023 Perfect Address CD-ROM now and a second Perfect Address CD-ROM in 6 months.
** Quarterly subscription: You'll receive the latest Perfect Address CD-ROM every three months for a full year, starting with November 2023.
*** Monthly subscription: You'll receive the latest Perfect Address CD-ROM every month for a full year, starting with November 2023.
Prices subject to change without notice.

Delivery:
On CD-ROM.

30-Day Money-Back Guarantee
We back the quality of Perfect Address with our 30-Day Money-Back Guarantee. If you are not satisfied with Perfect Address we will cheerfully refund the purchase price of the product.

What our Customers say about our Windows Programs and about us